Repository
Universitas Mandiri



Penelitian Dosen
Penelitian atau Publikasi Karya Ilmiah Dosen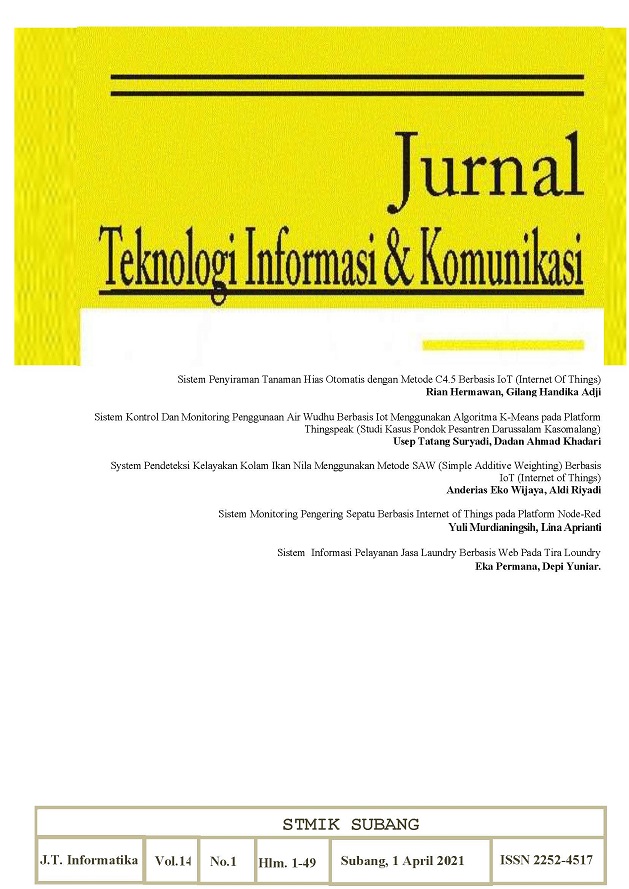 Sistem Kontrol Dan Monitoring Penggunaan Air Wudhu Berbasis Iot Menggunakan Algoritma K-Means Pada Platform Thingspeak
Kategori : Jurnal Nasional
Penulis : Usep Tatang Suryadi
Identitas : Jurnal Teknologi Informasi dan Komunikasi, Volume 14, tahun 2021, no 1
Abstrak :


The water for wudhu which is carried out at least 5 times a day for every Muslim, is often a waste of water due to excessive use when performing wudhu. Savings in the use of water is not something that can be bargained anymore, because what was done now will determine what happens in the future. From these problems, the idea emerged to create an application, an IoT-Based Control and Monitoring System for Wudhu's Water Usage Using the K-Means Method on the Things Speak Platform, Case Study of Pondok Pesantren Darussalam Kasomalang. The methodology used in making this application is the K-Means Clustering Algorithm. The results of this study formed 3 clusters, where cluster 1 was in the low category, cluster 2 was in the medium category, and cluster 3 was in the high category.